Dental implants are one of the most essential innovations in dentistry's modern history. From individual dental implants to All-on-4 implants, they have changed the lives of not only dentists but also their patients!
Dental implants must resemble and function like natural teeth, last for many years and remain stable. They have to be made of special materials in order to restore a patients' jawbone to its natural state and improve their smile!
There are many different sizes and shapes of dental implants as they are customized to each unique patient. Our dental implant experts will work with you to decide which dental implant solution is perfect for you and your individual situation. If you are curious about dental implants and what they are made of, here is everything you need to know: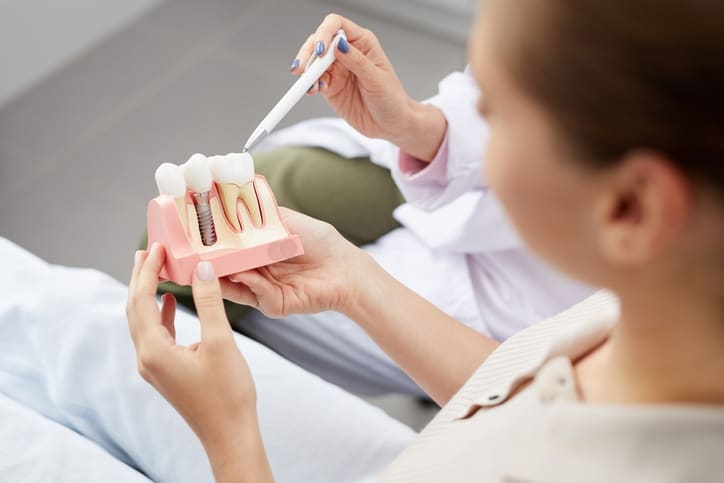 Titanium
Titanium is an extremely important material used in dental implants. In 1940, three researchers, Bothe, Beaton and Davenport, discovered that titanium could easily be implanted into bone and could, therefore, be used to aid in surgeries. Titanium has since been used in hip, shoulder and knee replacements for this exact reason. In 1965, physician, Per-Ingvar Branemark successfully performed the first dental implant surgery on a human. Thanks to the scientists and researchers of the past, a lot of dental implants are either made of titanium or titanium alloys. Titanium alloys are made up of primarily titanium with a combination of small amounts of other metals like nickel, vanadium and aluminum. In a process called osseointegration, the jaw bone will grow around the titanium implant and bond with the material like it was bone. It acts as a replacement tooth root, holding the new tooth where it belongs as well as stimulating the jawbone's growth. This metal fits all the requirements of dental implants as it is non-toxic, durable and light. It's additionally long-lasting. Patients can have titanium dental implants for over 30 years!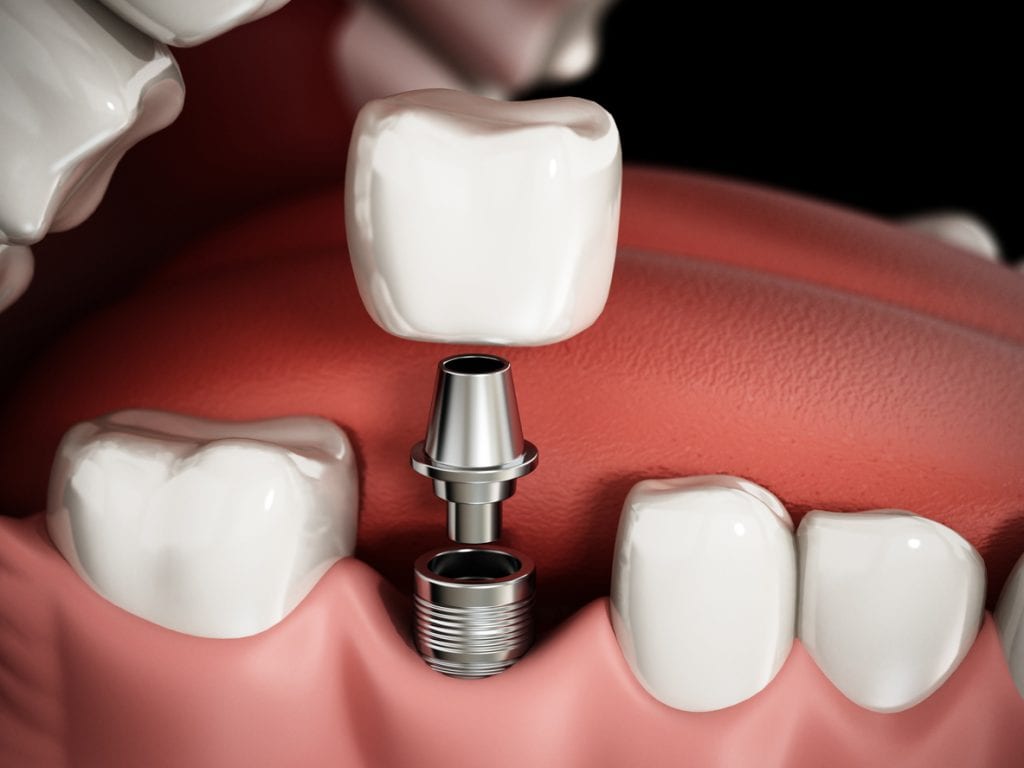 Zirconia
Zirconia is another material frequently used in dental implants. Zirconia or Zirconium Oxide is the crystal form of the metal zirconium. In contrast to titanium, it is a ceramic or a crystal material as opposed to a metal. Its use is much more modern than the use of titanium in dental implants. Dental implants made of Zirconia have only been on the market since the early 2000s. They are popular among patients who are worried about metal sensitivities.
Zirconia dental implants are a fantastic alternative to Titanium dental implants as they are both biocompatible and promote osseointegration. The main difference between the two materials is whether the implants come in one piece or two pieces. With titanium implants, the abutment or foundation is not connected to the synthetic tooth making it two parts. With zirconia implants, typically, the abutment and the prosthetic tooth are combined, making it one piece. Two-piece dental implants often give dentists more control during the implant placement process; however, most highly-trained dentists are able to work with both dental implant materials.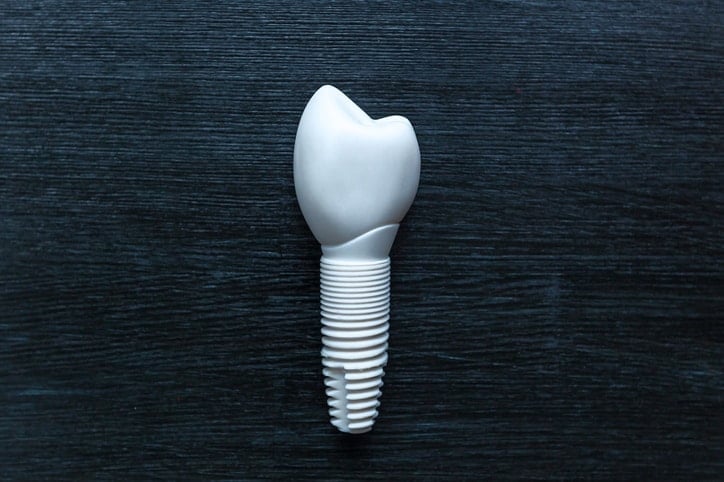 Prosthetic teeth
The part of the dental implant that's visible or the prosthetic tooth is usually made out of porcelain. Porcelain works well as it closely resembles real teeth in opacity and colour. It is also is hard enough to mimic the function of regular teeth, making it easy for patients to talk, drink, chew their food and more. Since everyone's smile is different, every dental implant will be custom made to match the patient's natural teeth. Dentists are equipped to match the size, shape and colour perfectly. You can rest assured; people will not be able to tell the difference between your natural teeth and your dental implants.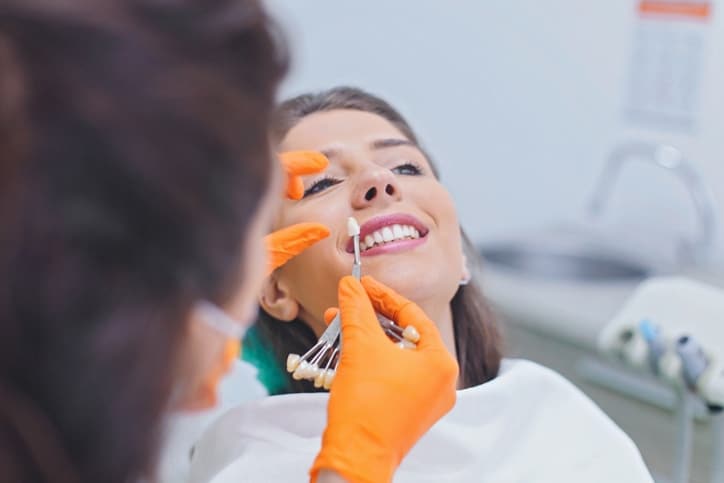 Why Bond Street Dental Implants
At Bond Street Dental Implants Toronto, we are dental implant experts. From regular dental implants to the innovative All-on-4 dental implants, we strive to put a smile on our patients' faces. We only use the best materials and the most state-of-the-art technology in our top-of-the-line facilities. If you have any questions about dental implants or are considering the procedure, contact Bond Street Dental Implants today or book a free dental consultation. We'll restore your smile, jawbone health and self-confidence in no time. Our patients' satisfaction is always top of mind so you can feel safe in knowing; your teeth are in good hands!